Mighty Mushrooms: Fungi in the Past, Present & Future at Ellwood Thompson's - The Beet Cafe
Monday, 15 July, 2019
|
Ever wondered how mushrooms impact your life and the life of the planet? There's a growing awareness and appreciation around these amazing mycelium, and for good reason...
Join Megan Jones from Host Defense for an evening of fun with fungi! You will learn how to identify key Southeast and Mid-Atlantic mushrooms, dive into the important role mushrooms play in ecosystems, discover how mushrooms can greatly benefit your health, and explore mushroom's impact on saving the honeybees.
Mushrooms are ancient allies, here for us now, and our partners for building a healthy sustainable future!
About the Presenter
Megan W. Jones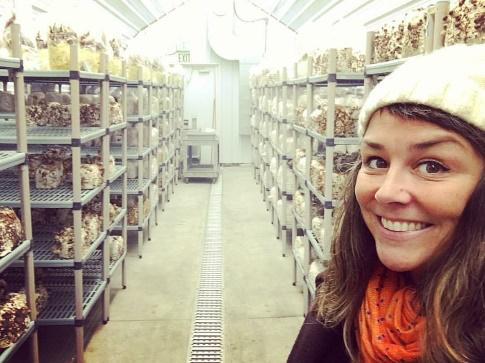 From being a naturalist kayak guide in the Outer Banks to working as an herbalist with MoonMaid Botanicals in Tennessee to studying under Ila Hatter, the "Lady of the Forest", from the Snowbird community in North Carolina, Megan has a extensive background in plants as food and medicine.
Megan spent many years as the buyer and manager of the supplement department for Ellwood Thompson's Local Market in Richmond VA, followed by a position as a supplement broker, servicing and educating on natural health and wellness for accounts all over Virginia and Washington, D.C.
She is currently the Eastern Regional Territory Manager for Host Defense/Fungi Perfecti, a beneficial mushroom supplement company built on Dr. Paul Stamets' visionary research into the power and potential of mushrooms. She spends much of her time traveling the Eastern half of the US, supporting the further understanding of the benefits of mushrooms through education.
Megan spends her free time wildcrafting, creating herbal concoctions, hunting for mid-century treasures, photographing mushrooms, planting in the garden, enjoying live music, implementing Pinterest projects and herding goats on her family's farm. Megan lives in the heart of Richmond, VA.
Tickets are $5.
Questions? We love 'em! Email us at TheBeet@EllwoodThompsons.com or call 804-359-7525.
Cost
$5
Venue
Ellwood Thompson's - The Beet Cafe
4 North Thompson St
Richmond, VA 23221
usa
Event Contact
Info

Phone: 804-359-7525
Website: Click to Visit

Similar Events